Who whan fi come test me!
Whaa Gwaan Jessetter's,
On my second visit to Jamaica, I was more than excited to go. It was a cold day in December in Maryland and I was looking forward to spending a couple of my December days in warmth, sunshine, heat, relaxation, drinks, food, all that. Upon my arrival to Montego, I was first greeted with a cocktail then escorted to a beautiful room with a beautiful view of the ocean. When I walked up to my suite, there was a private pool with an opulent garden in the front of my door. When I entered the suite it was gorgeous and spacious. There was a kitchen, elegant bathroom, a separate bedroom and living room which consisted of high ceilings, book shelves, artwork and checkered black and white floors. There were french double doors in both the living room and bedroom which led you out onto the private terrace with the view of the ocean. The private terrace then led you to the beautiful secluded beach which sat right outside my door. I was in bliss, I had arrived. I could just get up and walk right onto the beach. I had arrived and was just ready to relax. I showered and relaxed a bit before dinner. Although I wanted to escape the news from the chaos that was going on back home from the Eric Garner, Michael Brown and Tamir Rice injustice, I couldn't seem to turn it off. I was in Jamaica chilling in my room watching the march and mentally walking with the protesters chanting "Black Lives Matter, I can't Breathe" when I got a phone call. Dinner time and you know I was ready.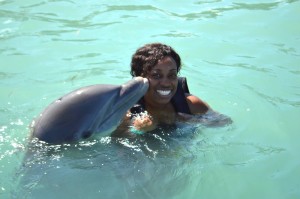 For dinner, we headed on out to this mom and pop spot where we heard the jerk chicken was to die for. I put in my order and hand the lady 20 jamaican dollars. She tells me the bill is too big and she don't have change, so she starts giving me American dollars. I told her I didn't want American dollars, I wanted my change back in the currency in which I paid. She told me she told me to give her a couple of minutes and she would get me my change. Im thinking, this y'all money, how you don't have change but I just patiently waited. At this time about 15 minutes has gone by and the line is growing longer and I'm growing impatient. So I walk to the window and ask her "where is my change" at this point I am holding up the line and I don't really care. You mean to tell me with all these folks that just put in an order she still didn't have change? Quit your blood clot lying, R.I.P Biggie. Anywho, she realizes that she needs to get me my change because I had no problem holding up the line. People in the back were growing angry like "what is going on up there" but all of that could've been solved had she just given me my change. She tells me she is going right now to get the change so if I could wait over on the side, so I complied. She eventually comes back so I walk up to the window. There was another girl at the window waiting too. She said she was also waiting for her change. The Jamaican lady hands the woman next to me some change, so I said "hey, I have been waiting longer than her" so she tells me she will get to me. Finally she gets to me and says "how much do I owe you?", I tell her and she stops in her tracks and says "I just gave your friend your change, so I'm like "who is my friend?" she goes, "The lady that just left." So now I'm getting mad because i'm like yall tryna play me. I told her, "I don't know that lady and why would you give her my change when I'm standing right here?" The lady who sas standing next to me had informed me that the restaurant owed her change too, I dont have nothing to do with that. She told me to go find the girl, "I told her I would do no such thing, I didnt know her and all I want is my change." Mind you there is still a long long line of folks waiting to place an order. She steps out from the booth to go find this girl and can't. I told her I didnt have time for this and she needed to give me my change. She finally gave me my change although she was quite upset. I didnt care, nobody told her to hand the girl my change when I was standing right there. How was I supposed to know the girl really wasn't waiting for change. That was the lady's fault for telling me to wait when I was explaining to her that I had been there first waiting for my change. To top it off, the jerk chicken was absolutely nothing to die for. I'm not only saying that because of the bad experience I had with the money situation. I make better jerk chicken than what was served to me, with that being said, I know good food and that there wasn't good. So I did not return.
Unfortunately, my search for good food in Jamaica was unsuccessful. Maybe it was because we were around too many tourist areas. I don't know, I couldn't quite put my finger on it. The first time I came to Jamaica, I did not have this problem locating good food. I also stayed in Runaway Bay as opposed to Montego. Whatever the case, I was disappointed with the food. I like spicy food and the food lacked seasoning and spices. What a complete disappointment.
Have you gone somewhere and just been completely disappointed with the food? What was your experience like and what would you recommend to eat?
Happiness Is a Journey, Come Wander With Me!!!
About Author